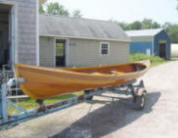 Blue Heron Boatworks, Westminster Park Road,
is the place on the Island to go for general boat
restoration, with a special emphasis on
St. Lawrence Skiffs. Blue Heron also offers a
boat launch, dockage, and gas dock, along with
winter storage. Open Tuesday through Saturday,
8 - 4:30 all year 'round.

Pictured at left
is a reproduction skiff
built by Blue Heron
Boat Works, just a
sample of the
quality craftsmanship
done on boat repairs
and restorations.

Pictured on both
sides is work
being done
on a late '20's
Chris Craft, the
boat being rebuilt
from the keel up.

BLUE HERON BOATWORKS
Westminster Park Road


Call (315) 482-4934