Wellesley Island State Park is 2600+ acres including a marina with boat rentals, four boat launch sites, a swimming beach and picnic area, concession (pictured at upper left), natural sand beach and a lot of beautiful shoreline. 12 Carry in sites, 10 winterized cabins, 12 full service cottages, 435 campsites, 115 trailer sites (electric only), 57 full hook-up. Slip dockage. Picnic areas.
There are rustic cabins, full service cabins, RV sites, and regular camping sites.
Other amenities include a miniature golf course and playgrounds.
Above at right is the main marina.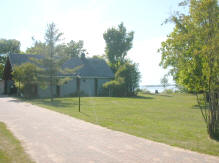 Minna Anthony Common Nature Center
Located within Wellesley Isl. State Park,
the Nature Center offers a museum and gift shop, 8 miles of beautiful hiking/skiing trails, a Butterfly House and Voyager Canoe tours during July and August. Pictured at right is the vista as you walk toward the main museum building.
Click here for a list of special events at the Nature Center.
To make reservations for any State Park you must call:
1-800-456-CAMP
Wellesley Island State Park
44927 Cross Island Road, Wellesley Island NY 13640
Park Office and Manager: 315 482-2722
Marina Office: 315 482-6503
Regional Office 315 482-482-2593
Park Police Emergency: 877 851-6086