State Parks
To make reservations for any State Park you must call: 1-800-456-CAMP. There are two state parks on Wellesley Island: Wellesley Island State Park and Dewolf Point State Park.
For a peek at these parks, visit the State Parks page.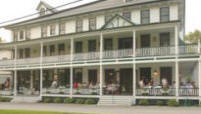 The historic Wellesley Hotel is a culinary destination in the 1000 Islands since its renovation and rejuvenation in 2003. Serving world class cuisine in an idyllic setting and offering charming turn of the century lodging, it is a must for any itinerary. Closed for the season.
Reservations advised. 315-482-3698


Casali Cottage on Tennis Island
Monthly rentals preferred


www.casalicottage.com





The Torchlite Motel has closed and been torn down.