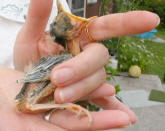 I found a critter of some sort! What should I do?

Is it an adult, and clearly hurt? Maybe a bird that hit a window or car, a turtle or squirrel that got run over? If the animal is clearly injured, but not so badly that you're sure it will die in just a few minutes, then call a wildlife rehabilitator.
There are names and numbers at the bottom of this page.

It is illegal for you to keep an animal or bird rescued from the wild.
You must pass it on to the proper authorities or a licensed wildlife rehabilitator.

IF IT IS A POSSIBLE RABIES VECTOR SPECIES SUCH AS A FOX, BAT, RACCOON, COYOTE OR SKUNK, DO NOT TOUCH OR APPROACH THE ANIMAL. STAY BACK AND OBSERVE ONLY FROM A SAFE DISTANCE. DO NOT LET YOUR DOG OR CAT NEAR THE ANIMAL.

Is it a baby? Maybe a small bird or young deer or other young creature?
The cardinal rule for finding wildlife is IF YOU CARE, LEAVE IT THERE
The reason for that rule is that more often than not the mother or parents are somewhere near, and 'saving' it will take it away from natural proper care. The mother deer may be nearby, the fledgling bird being watched and fed by nearby adults.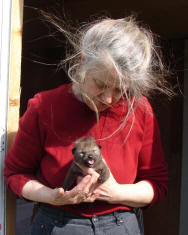 So how do you tell if that's the case?
OBSERVE.
Watch the animal for a while. Staying way back and watching unobtrusively--and making sure that no pets bother it--you may see the mother return once she feels it's safe. If that's the case, then the animal didn't need rescuing after all.

But it's crying/squeaking/chirping!!
That is how the parent will be able to locate it.


What if no mother comes after several hours?
Then you may want to call a wildlife rehabilitator. He or she will probably ask you a lot of questions, such as where the animal is located, how long it has been alone, and other things that may help determine if intervention is needed. You can figure some of it our yourself with the two links below, which lead to decision trees. Each page also has information about how to deal with that specific kind of animal.

Here is a link to a decision tree for dealing with a baby mammal.
Here is a link to a decision tree for dealing with a baby bird.

SO WHO SHOULD I CALL? For nuisance animals or a rehabilitator?


REHABILITATORS

On or near Wellesley Island call Sue-Ryn Burns (pictured above with a baby coyote) at 315 482-2985 -this page is hers. If you get an answering machine or voice mail leave your name and a number where you can be reached, along with information as to where you are, what you found, and where and how you found it. Sue-Ryn has both NY State and Federal Wildlife rehab licences. To learn more about her wildlife rehab work click here.



Here are some local NYS Licensed nuisance control people.
All phone numbers in 315 area code unless noted.
Rehabbers are prohibited by law from charging money - donations are always helpful. Nuisance Control people are allowed to charge money and many do.

NYS Licensed Nuisance Control People

Daniel Ebel (Bat specialist) Redwood/Hammond area 324 - 6392

Gerald & Irene Orvis Clayton 686 - 3322

Edward Barlow Clayton 686 - 5340

Rebecca Atnip LaFargeville 658 - 2095

Peter Vaadi LaFargeville 658 - 2335

Richard Todd Cape Vincent 654 - 3655

ABOUT RABIES

Because of recent cases of rabies in Jefferson County and on Wellesley Island, do not handle or even approach any baby or adult raccoons. Stay away from them and let them go their way. The same warning applies to skunks. If such an animal is acting aggressive, do not attempt to scare it off.

More Rabies Info
Any mammal can get rabies, and only mammals such as raccoons, skunks, foxes, bats, dogs, cats—and people can get rabies.
Animals with rabies act differently from healthy animals. They may move slowly or act as if they are tame. Some signs of rabies in animals are: changes in behavior, general sickness, problems swallowing, increased drooling, aggression, staggering, unusual daytime activity, weakness in hindquarters.
Rabies can be prevented by the rabies vaccine, and through thorough cleaning of the would.
If you are bitten by an animal that could have rabies, immediately clean the wound with soap and water for five minutes, and seek medical attention.

Contact Jefferson County Board of Health 786 - 3760

Dan Morgan USDA & Wildlife Services - Potsdam HQ 267 - 2288
Cell phone 315 - 2857 - 4311
e-mail dan.p.morgan@aphis.usda.gov

(Dan has been in charge of the Rabid Raccoon removal program in the area. W.I. had 8 instances of rabies over the winter, probably due to there being about 2 1/2 times the number of Raccoons this Island habitat can sustain - I'm sure he'd be glad to give you more tips, hand-outs, and info)





If not near the Island, try these numbers:

Endangered Species Unit - NYS DEC 518 - 402 - 8863

DEC Region #6 - Jeff, Lewis,& Herkimer Counties
William Gordon (wildlife manager) 785-2261
Andrew McDuff (wildlife biologist) 793 - 2254

The ONLY Vet in the region who is willing to take in or handle
"Exotics" (aka wildlife) is Dr. David Plante
North Country Animal Health Center Rt. 3 Watertown ( a few miles out from the Malls, past Hounsfield, on the left)
785 - 9505 or 785 - 0143

Need help discouraging wildlife? Here's some.