All prices listed below are for one year of listing.

Simple twenty word listing with link to your site and no photo, as shown below, $10

Northern Paradise, Country Route 100, FineView. Gifts, rubber stamps, herbal goods.
Call 482-2985 for more information.

Simple twenty to forty word listing linking to your site with your small digitized photo,
and your text, as shown below, $20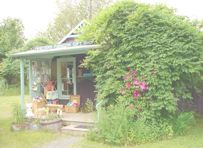 Northern Paradise, Co. Rt. 100, FineView.
Gifts reflecting the beauty of the 1000 Islands region.
Open weekends 12-6 from Memorial Day through June,
Wednesday-Sunday 12-6 July and August.
Call 482-2985 or 482-4018 for more info.
Twenty to forty word listing linking to your site with your small digitized photo and your text, as shown above, and separate web page on this site containing up to five of your pictures and your descriptive text, $60 plus $5 per digitized photo. For an example, click on the link to Blue Heron Boatworks.

Twenty to forty word listing linking to your site with your small digitized photo and your text,
and more than one page on this site, $60 per page plus $5 per photo.
The cost for taking pictures and picture prep, and for writing copy for your business is $30/hour, half hour minimum, including travel time -which shouldn't be too bad since the person taking the pictures lives on the Island.

The cost for updates or changes to listings or pages, $30/hr, half hour minimum; to update your listing or page, the entire site must be updated.
Descriptive text written with a standard word processing program like Microsoft Word and sent via email can be easily converted to web format. Printed materials will have to be retyped, the time spent charged at the above rate.

Digitized photos sent via email or CD can be easily converted for use on a site. If photo prints are sent, they will have to be scanned and digitized, for an extra cost at the above rate.
Submitted images should be no larger than 4X6 or a file size of under one quarter megabyte if sent via email, larger images sent on a CD or flash drive are fine, we just have very slow dial-up on our part of the Island. The best file format for submitted images is jpeg; you will get better results with a small, low compression jpeg than a giant highly compressed image.
Submitted images may be cropped and resampled to fit space and bandwidth constraints.
Submitted text may be edited for length and or clarity.

If you have any questions about prices, or about why we started wellesleyisland.net and what we hope it will do, give us a call. The site was started to help publicize our business, the businesses of our friends, and a place to send people who want to know what we have here. A comparison of the prices listed above and the going rate may give you the impression that we don't expect to make any money off this venture.
Well, we don't. But we would like to break even, the charges reflecting the amount of time spent and the costs of maintaining the site.

Is there something else this site should be doing? Some other place we should be listing, or linked to? Let us know about it. We really do look on this as a collaborative, cooperative effort by a bunch of people and businesses surrounded by water.

To contact us, call Steve and Sue-Ryn Burns, 482-2985. Evenings are best, but our machine
will take your message and we'll get back to you when we can.